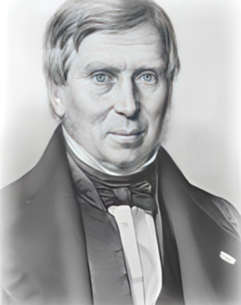 Niels Hofman (Bang) was born 8 June 1776 in Vejle and died 5 March 1855 on Hofmansgave. He is buried in Norup. He was a son of Customs Administrator and Captain Claus Bang (1740-1805) and Erica Pontoppidan (1750-1778). He married Charlotte Malling (1786-1879), daughter of Prime Minister Ove Malling (1747-1829) on 13 August 1802.

His grand-mothers (Johanne Marie de Hofman) brother Niels de Hofman (1717-1785) had established the family estate Hofmansgave in 1785 and selected him as its first owner with obligation to take up the de Hofman name and weapon. He added Bang in parenthesis in order not to be mixed up with other families with the same name.

He graduated from the school in Nyborg in 1793 and took up studies in natural sciences at the university of Copenhagen in 1795. In Nyborg he had become a good friend of Jacob Aall, a well-known Norwegian industrialist and politician. Other friends of his during this period were Henrik Steffens and J.W. Mueller. During lengthy travels in Europe 1797-1800 he visited Germany, Bohemia and France where he established connections with leading scientists with whom he later had correspondence with.

From 1802 and until his death, he lived on Hofmansgave with the exception of the years 1806-1808 when he attempted to set up a model farm at the Bistrupgaard estate near Roskilde which he had purchased. To his regret, he had to sell the estate due to low rate of income from the farming. Due to the war with England, many farmers were drafted to the army, which also contributed to the problems. However, he continued his efforts at Hofmansgave where he planted new trees and reorganised the park. Hofmansgave became a popular meeting place for vacationing botanists. The mainstay of his botanical interests were in algae which inspired the ground-breaking work by H.C. Lyngbye who was house-teacher at Hofmansgave for five years. In tribute to his inspirator, he named the Bangia algae family after Niels Hofman (Bang).

Explore the Niels Hofman (Bang) connection to the de Hofman family

View newly found picture of Niels Hofman (Bang)

The young Niels Hofman (Bang)