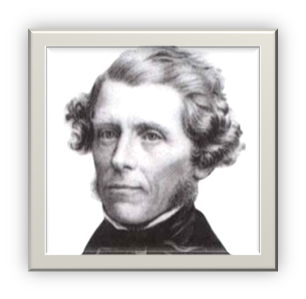 Niels Erik Hofman-Bang was born 18 July 1803 on Hofmansgave, a son of the famous Botanist Niels Hofman (Bang) (1776-1855) who had established the family estate in 1784. He married Martine Malling (1801-1869) on 23 August 1835, a daughter of Customs Administrator Peder Malling (1762-1824) from Kolding, later in Langenfelde.

Niels Erik Hofman-Bang graduated at Herlulfsholm in 1822. Very early, he had developed a keen interest in teaching and soon after his graduation, he started to teach at the Borgerdyd School in Copenhagen. At the same time he was Private Secretary to Prime Minister Ove Malling, his mother's father. In the following years he received a comprehensive education ranging from watch-making to natural sciences. Following a stay at the Farming Institute in Möglin, Brandenburg during the years 1827-1830, he was summoned to Sweden in 1831 by King Charles XIV (1763-1844) as a consultant in sheep breeding. During a total of twelve years he contributed significantly to the development of this activity in througout Sweden. He traveled all over the country, partly directed by Gabriel Poppius (1769-1856), the director of the Board of Commerce. All in all, he visited a total of 57 sheep breeding farms from north to south, making his name well-known and respected.

In 1842 he took over the tenancy at Hofmansgave as his duties in Sweden were assumed by one of his brothers (Peter Ulrik Hofman-Bang). When his father died in 1855, he took ownership of the estate and the tenancy went to another brother (Jacob Aal Hofman-Bang) in 1860. However, he re-assumed the running of the estate in 1880, helped by his only child, Niels Erik Hofman-Bang (1844-1929) during his last years. He was appointed Vice Chancellor in 1861 and received many prestigious awards such as the Swedish Farm Academy Silver Medal in 1843. On 2 March 1886, he died on Hofmansgave and is buried in Norup.



View large picture of N.E. Hofman-Bang

View another picture of N.E. Hofman-Bang