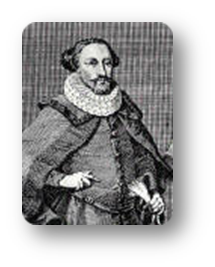 He was a son of a "free-farmer" in Simested, district of Rind in Viborg county where he was born 29 July 1556. His father was Jep Mogensen who died of the pest in 1585. He was married four times but had only children in his first marriage to Karine Nielsdatter. Niels Jacobsen's two sisters died as infants while his younger brother died in the pest. Already as a young boy, Niels Jacobsen was sent to the Latin School in Viborg for four years. After this, he came to Ribe, sponsored by his mothers brothers son, Michel Christensen Blech who was Slots-Skriver (county administrator). A noble lady called Kirsten Nielsdatter Rotfeld, Eric Lykkes of Skovsgaard first wife (who was childless) took a liking to the cheerful and willing-to-learn Niels. She sponsored his education for another four years after which he was put to work as a farmhand at her husbands estate. In the year of 1575, he came to Antvorskov castle as Slots-Skriver and then to Soroe. After this, he came to Hald in Jutland.

In 1581 he went into service at Hagsholm (today Haxholm), owned by Manderup Parsberg (1546-1625) - the man who became famous for cutting the nose of Tycho Brahe - where he stayed until 1585. After a period of another five years, he arrived at Skanderborg castle where Lauritz Ebbesen Udsen (1559-1646) was in charge. This man was so impressed with Niels that he gave him a separate house to live in on the estate called Nygaard. The pushy peasant son then had the guts to extend an offer of marriage to Margrete Udsen – also called Vesteni after her mother's family. She was a daughter of one of Lauritz Ebbesen Udzon's sons. After having overcome a number of impediments to the marriage from her noble relatives in Vejle, including a five year long engagement, they were finally married 26-MAY-1592. But Margrete died only three years later together with her three small children.

Following this tragedy, Niels Jacobsen resigned from his job at Skanderborg castle and moved to Randers with his fortune. In October 1596, he married Marie Pedersdatter Lasson, the merry, cheerful and rich widow of Sören Hofman and daughter of Peder Lasson. Sören Hofman became City Court Judge in 1604 and in 1619 he was elected Mayor of Randers. His father-in-law, Peder Lasson, had died the year before and the couple now had three large fortunes on their hands.

Niels Jacobsen died 10-JUN-1624 after breaking a leg. As a tribute to his first wife's father and his mothers family, he carried a single and a double "V" locked in an embrace in his coat of arms. Later, this was complemented with three golden globes, apparently in memory of his three large fortunes. His later families kept the three golden balls in their coat of arms. However, in some family trees, it would be interpreted as three roses. A few noble families which originated from Niels Jacobsen, took up the globes (Hofman) as well as Roses (Rosenörn, Benzon). Niels Jacobsen and Marie Pedersdatter Lasson had nine children of whom several were to become famous including Sören Hofman and Peder Lasson.